Inspiration: A week planners
source:
here
Cześć! Myślałam o tego typu inspiracyjnym wpisie, od kiedy zaczęłam prowadzić mój mały sklepik Mally. Szukałam dobrych pomysłów na stworzenie domowej roboty kalendarzy, lub tygodniowych plannerów, gdzie mogłabym coś przypiąć, lub wpisać rzeczy do zrobienia. Na początku myślałam, że to tylko dobre rozwiązanie dla dużych rodzin z dziećmi, by zapisać ich zajęcia, ale teraz zmieniłam zdanie - to naprawdę fajne rozwiązanie dla każdego. Bo ile razy zdarzyło wam się o czymś zapomnieć (albo zostawić coś na ostatnią chwilę - czego nienawidzę). Zatem teraz mam w końcu motywację do stworzenia czegoś podobnego (nie mogę zapomnieć o wysyłce paczek, lub przygotowaniu zamówień). Myślę że to dobry moment do zabrania się do roboty. Oto kilka inspiracji, które znalazłam w internecie i które mogą się okazać pomocne w czasie prac i tworzeniu czegoś podobnego. Mam nadzieję, że was też to zainspiruje. /
Hello! I was thinking about that kind of post since I started my tiny Mally shop. I'm searching for any good ideas for home made week planners where I could pin or write my ,,to do's". At first I thought it's only a good solution for big families to write down children activities, but now I changed my mind - it's a really good solution for everyone. Well, how many times you had forgotten about something that had to be done? Sometimes I'm thinking about 100 things per minute and it happens to me to miss something (or leave something for the very last moment - which I hate).So now I finally have a good motivation (I can't forget about sending packages or preparing the orders) - I think it's the right time to make one week planner by myself. Here are a bunch of inspirations I found on the internet that may be helpful for me while creating something similar. I hope you'll also get inspired.
source:
here
source:
here
source:
here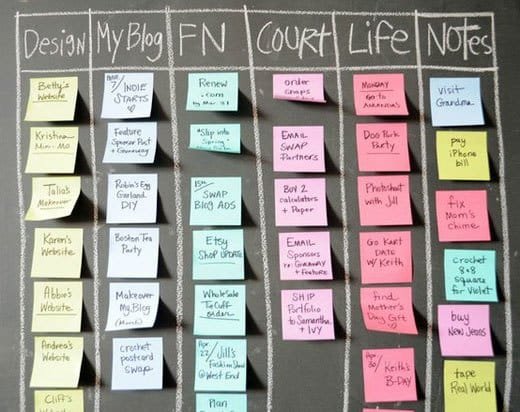 source:
here
Używacie czegoś w stylu tych tygodniowych plannerów w codziennym życiu? :-) /
*You use any of those ,,week planner" ideas in everyday life? :-)